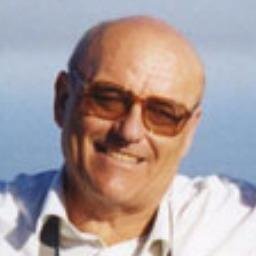 Giovanni Ferraris
In suo onore è stata denominata la specie Ferrarisite (Ca5(AsO3OH)2(AsO4)2 · 9H2O)
Dal sito personale http://ferraris-prarolo.com/interests.php
Giovanni FERRARIS - Università degli Studi di Torino  - Dipartimento di Scienze Mineralogiche e Petrologiche Istituto di Geoscienze e Georisorse, CNR  

Biography
Born 1937 ( Prarolo , Italy) 
Professor of Crystallography, Faculty of Sciences, University of Torino 

Chair of the Commission Inorganic and Mineral Structures (CIMS) of the International Union of Crystallography (IUCr) 

Past-Vice-Chairman of the Commission on New Minerals and Minerals Names (CNMMN) of IMA 

Initiator of the Special Interest Group (SIG) "Mineralogical Crystallography" of the European Crystallographic Association (ECA) 

Collaborator of the Institute of Geosciences and Georesources (IGG) of the Italian Research Council (CNR) 

Past-President of the European Mineralogical Union (EMU) 

Past-President of the Italian Crystallographic Association (AIC) 

Member of the Executive Committee of the Federazione Italiana Scienze della Terra (FIST) 

Member of the Academic Senate of the University of Torino 

TEMPUS and ERASMUS activity with Romania and Hungary 

Dedication of the mineral ferrarisite 

Foreign member of the Russian Academy of Natural Sciences 

Plinius medallist (1999) of the Italian Society of Mineralogy and Petrology (SIMP) 

Tartufari Prize (2000) of the Accademia Nazionale dei Lincei 

Doctor Honoris Causa University of Bucharest (Romania) 

Honorary member of the Russian Mineralogical Society and of the Romanian Mineralogical Society 

Doctor Rerum Naturalium Honoris Causa (Dr. rer. nat. h.c.) of the Darmstadt University of Technology (Germany)

Main fields of research are as follows.
Characterisation of rare and new minerals, in particular titanosilicates and other minerals from hyperalkaline rocks. Synthesis of mineral phases; pillaring of heterophyllosilicates. 



Crystal-chemistry and crystal-physics of inorganic compounds. 

Structural and general crystallography. 

Modular crystallography; polysomatism, polytypism and twinning. 

Results have been obtained mainly by diffraction (X-rays, neutrons, electrons) and electron microscopy. 

The main results can be grouped as follows. 

Characterisation of some 80 mineral species; most of them with crystal structure determinations; 33 are new species [altisite, balangeroite, bykovaite, canavesite, carbokentbrooksite-(Ce), carlosturanite, caryochroite, cattiite, eveslogite, ferriallanite-(Ce), gjerdingenite-Fe, hydroxylclinohumite, kalifersite, kanonerovite, kapitsaite-(Y), kristiansenite, labuntsovite-Fe, labuntsovite-Mg, magnesiocloritoid, magnesiodumortierite, manganonaujakasite, nabalamprophyllite, nafertisite, nechelyustovite, neskevaaraite-Fe, phaunoxite, potassicarfvedsonite, raadeite, seidite-(Ce), shirokshinite, stoppaniite, tsepinite-Ca, zirsilite-(Ce)]. Some new species are connected with asbestos (balangeroite, carlosturanite), very high pressure metamorphism (magnesiochloritoid, magnesiodumortierite) and hyperalkaline rocks (e.g., Kola Peninsula). 

Evolution with temperature and pressure of the crystal structure and equation of state of rock-forming layer minerals, in particular micas. 

Development and applications of the theory of polysomatism [inophites (carlosturanite), heterophyllosilicates (nafertisite) and palysepioles (kalifersite) series have been defined]. 

Theoretical studies of twinning (merohedry; definition of allotwins, plesiotwins, metric merohedry, selective merohedry, hybrid twins, and polyholohedry) and diffraction methods. 

Contributions to bond valence and charge distribution theory; crystal-chemistry of the hydrogen bond.